Woodland Rabbit Kids 4-Way Washable Bag
Description
Lightweight Kids bag that can be used in 4 ways ☀️ It is perfect for use for little one's school needs, music classes, an outing around town, or even for wet swimwear, towels, washcloths and more!  

Features
△ Spacious body compartment with zipper and snap-on button closure 
△ Zipper compartment on the flap for small essentials that require quick-access such as stationery, handkerchief, snacks
△ Back zipper compartment for smaller items for faster reach/ease of finding
△ External side bottle compartment for water bottle
△ 2 adjustable and detachable straps for little one to use the bag in 4 ways! Use it in I) backpack, II) tote, III) crossbody, IV) short handle for mummy or daddy to carry
Our Kids bag is easily washable in the washing machine so you don't have to be afraid of it getting soiled or wet! You can also easily spray antibacterial spray on it and wipe it down after a day's out.
You can twin with your little one with our (Adult) Utility 4-Way Bag!
Product Measurements
Bag: 14 (H) x 11 (W) x 2.5 (D) inches
Strap (2 straps provided): longest adjustable length 22 inches / shortest adjustable length 11 inches
Product Material
Water-resistant polycanvas 

Gifting Ready 
Comes in premium Mori's own kraft box packaging and a story card of Mori's mums, the makers of this unique creation. Make your gift extra special with name monogramming at $7.00, done by a mother with iron-on vinyl in Singapore (hire referred by Threads of Courage @ Fei Yue Family Service Centre) for livelihood.

See How our Kids 4-Way Washable Bag Works!

Delivery, Returns & Refunds

When can I receive my order after placing the order?

Orders will be dispatched within 1-2 working days.
For orders with name personalisation, we require additional 5 working days.
Local Singapore delivery:
Local courier delivery in Singapore takes 1-3 working days. 
International estimated shipping delivery time:

Malaysia: Takes about 5-9 working days. Please note that you will be charged import tax when your total value of items exceed MYR500.

Australia, Hong Kong, South Korea, China, Taiwan, Indonesia, Thailand, Japan, United Kingdom: takes 6-8 working days

USA, Netherlands, France, Germany, Canada, UAE: takes 7-15 working days

During sale and festive seasons, do take note that there may be a delay in deliveries.

*Kindly note that courier driver attempts 3 times delivery in total. Thereafter, it will be returned back to us. Once it is returned to us, you will need to pay for additional processing and courier fee (total of S$7) to redeliver. Alternatively, you may opt to self collect or pickup at our warehouse office.

How do I track my delivery?

We send email notification to you upon dispatch of your order parcel with your tracking number and tracking URL which allows you to track your parcel status. Please kindly check your spam mail box if you have not received your shipping tracking email, as sometimes our mail gets in there! Kindly mark us as "Not Spam" so you may receive timely updates from us. If you still do not find it, let us know and we will resend. 

What if I need my parcel urgently?

You may opt for self collection (see above) or arrange for Grab Express for pickup at our warehouse office instead of self collecting yourself. Contact us at hello@moriofficial.com to arrange!
RETURNS & EXCHANGES
I have a change in mind, can I return or exchange?
We understand sometimes you may have a change in mind and while we do not accept returns, we accept exchanges (top-up required for exchange items that are more expensive) within 3 days of receipt of items! ☺

To make an exchange, reach out to us  with your Order Number, Item(s) that you wish to exchange. All returned items should be sent in their original condition and packaging and you will have to arrange for delivery of return of items back to us at your own cost (with tracking). There is a flat shipping fee of SGD7 for exchanges in Singapore, and ~USD15 for other international markets. Upon receiving of your items, we will take 2 working days to process delivery of new items and courier delivery time depends on your country destination (check order delivery sections for time needed above).

There's something wrong with the product I received!

We provide continual training with our Mori moms for sewing skills and quality checks to ensure quality for our creations.However, if you find any defects in product, please take a photo and send to us to our email at hello@moriofficial within 2 working days upon receiving products, and we will work with you from there.While being a social enterprise, we take feedback seriously as part of the improvement process to ensure quality work by Mori moms. Kindly note that our products are handmade.
join us in bettering the world
Every purchase supports livelihoods of Mori mothers.
Why You + Your Little One Need Kids 4-Way Washable Bag ♥

✨ Suits Toddler (>110cm) and Kids up to 12yo
✨ Carry in 4 Ways with Detachable + Adjustable Straps so Mommies can Carry Too
✨ Twin with Your Little One
✨ Super Lightweight! (weighs only ~200+g!)
✨ Machine-washable
💯 Fits A4 perfectly: great for school/extra-curricular books, worksheets, storybooks!


Designed to be multi-purpose for the little ones for school, enrichment/ music/ art/ sports classes, day outings with the fam bam, or even just for that cuddly bff stuff toy + favourite book and water bottle. 😉

Mori's Kids 4-Way Washable Bag is roomy in storage, yet lightweight for comfort, and great for twinning with Mori's (Adult) Utility 4-Way Washable Bag.
👍🏼 Water-resistant: spill and splash-proof
👍🏼 Machine Washable
👍🏼 Wipe down with antibacterial wipes after a day's out!
We understand that curious and adventurous minds and hands of little ones create "mess" at times. With this washable and water-resistant bag, you have no worry over markers stain, dirt and spills!

Keep germs-free by wiping down this bag with antibacterial wipes or disinfectant spray after a day's out.
👍🏼 Water-resistant: spill and splash-proof
👍🏼 Machine Washable
👍🏼 Wipe down with antibacterial wipes after a day's out!
We understand that curious and adventurous minds and hands of little ones create "mess" at times. With this washable and water-resistant bag, you have no worry over markers stain, dirt and spills! Keep germs-free by wiping down this bag with antibacterial wipes or disinfectant spray after a day's out.
😍 As Seen on Zoe Raymond and her Daughter Arielle 😍
See Mori Kids Carrying This Bag for 🔎 Learning Adventures, 📚 School, 👟 Day Outings!
Lovingly Handcrafted By Mothers
Every piece of fabric, every zip, every thread and every stitch is painstakingly put together by Mori's mums. Your support empowers them to create a better future for the ones they love.
- Kids 4-Way Washable Bag Features -
With 3 zip compartments + 1 garterized pocket slot , everything has its spot.
1. Roomy zip body compartment
Put books/worksheets, snacks, cardigan, sports attire, swimwear
2. Zip compartment on flap closure
Great for tissue, snacks or small items needed quickly
3. Back Zip Compartment
For bigger items like towel, diapers separated from main body compartment
4. Garterized external pocket slot
Tumbler or water bottle goes here!
Fits following phones (as gauge)
iPhone 6 -12, iPhone +, iPhone Max, even up to iPhone Pro Max (6.33 x 3.07 inches)
Samsung S8, S9, S10, S20, Galaxy Note 20, even up to Samsung S20 Ultra (6.57 x 3 inches)
Google Pixel, up to Google Pixel 5 (5.7 x 2.77 inches)
Product Measurement (to check against your phone)
Pouch size: 7.5 x 5 inches
Front external pocket size: 4.7 x 4.9 inches
- Gift Ready Packaging -
Mori's premium kraft box packaging + A story card of Mori moms
What Other Customers Are Saying 👇
Customer Reviews
100
reviewers would recommend this product
Write a Review
03/17/2023
I recommend this product
Repeat purchase
This is my second time purchasing. Love the sweet designs and high quality material… and this time even my 7 year old likes to use it commenting how practical it is to put all her little stuff in it. This says it all. Please bring it more products!
irenehmhoon@gmail.com Hoon

Singapore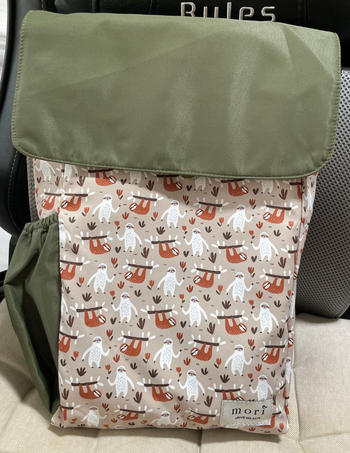 03/06/2023
I recommend this product
Adorable sloth bag!
I'm a huge fan of sloths and was so thrilled to find this print here! Love how versatile and lightweight this bag is, and how it can be worn multiple ways. The waterproof material works well too. My belongings were kept dry even though I was caught in the rain a couple of times! Overall, I've been getting a lot of use out of this bag, and I really like it! Here are some suggestions I have on how the bag can be improved ☺️ It would be nice to have pockets on both sides, as the bag tends to become a bit imbalanced and tilt leftwards whenever I put my water bottle in the side pocket. The bag also doesn't come with any handles, so whenever I make a trip to the toilet, I have to figure out another way to hang it from the door (when I'm using it as a backpack), which can be a little cumbersome especially when my hands are full. Noticed that the zipper used on the front flap was different from the ones used for the main and back compartments. I personally found it a bit hard to unzip as the slider would often get stuck along the teeth of the zipper. The pull tab also felt quite fragile, so I'm not sure if it would break off over time. Might want to consider using a sturdier & smoother zipper
Fang W.

Singapore
03/01/2023
I recommend this product
Return customer
Always love Mori's product, but this 4 way kids bag is really small for childcare use. Otherwise it's nice for short outing.
Elle L.

Singapore
02/23/2023
I recommend this product
Great bag for kids and adults!
I bought bags for each of my daughters and found them to be very well made. The material and finishing is really good. It also feels really durable! My mom really likes the bag too and now she's getting one. Highly recommend this!
Joanna T.

Singapore
12/28/2022
I recommend this product
Adorable print and lightweight
Was a pleasant surprise that it came in nice packaging. Love the story behind the makers of the bag. Thanks Mori and Mori moms!
J R.

Singapore
VARIOUS STYLES TO SUIT DIFFERENT YOU AND OCCASIONS
As seen on Lauren @socialworkscrapbook with Daisy Pink Grey DZ Bag giving off sweet and cute vibes in her casual getup while going for mobile food distribution!
As seen on Magdalyn @magdalyn_ with Nude Bone DZ Bag in her casual getup while doing mommy duties!
As seen on our model Isabelle with easy to match Camel Navy DZ Bag in casual bohemian getup
As seen on co-founder @rachewe with Pink Mint DZ Bag in athleisure getup for her walks
As seen on Lynn @adlynnz and her group of pre-school teacher girlfriends, matching each one's DZ Bag design to their likes and personalities
As seen on Dawn @dawn_ml_lin with Floral DZ Bag in sweet dress getup for her staycation